Caltrate® Joint Health UC-II® Collagen, 30 tabs
$49.00
Our Caltrate® Joint Health UC-II® Collagen supplements support better joint function and cartilage recovery for better joint mobility!
Suitable For:
Adults (18 years and above)
Quantity:
30 tablets
100% Authentic Product
Fresh Stock with Expiry of at least 12 Months
Reliable Customer Service
Description
Clinically Tested
Based on clinical studies, the Vitamin D contained in Caltrate supports muscle strength and reduces fracture risk.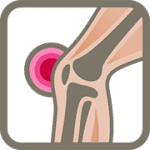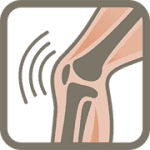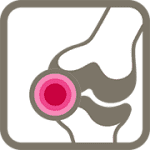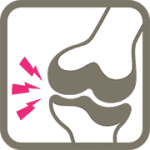 From the World's No. 1 Calcium Brand
Our Caltrate® Joint Health UC-II® Collagen contains UC-II® undenatured collagen type II, proven to reduce joint discomfort and promote better cartilage and joint flexibility and maximise joint mobility! It is more efficient and faster acting than Glucosamine and Chondroitin, and in a smaller amount – just one tablet a day. Enjoy better joint health with Caltrate® Joint Health UC-II® Collagen!
Ingredients:
What is UC-II®?
The scientific breakthrough ingredient to your joint health, UC-II® Collagen has been clinically tested to support your joints. UC-II® is the patented form of an undenatured Type-II Collagen. Type-II Collagen is commonly found in your joints. It is specially processed in low manufacturing process to retain its native structure.
UC-II® Collagen

 reduces joint discomfort, such as stiffness & promotes joint flexibility.

Smaller!

 1 mini tablet daily.

Better!

 UC-II® clinically tested to support your joint.

MORE Joint Supporting ingredients than Leading Brand!*

 Added with Vitamin C and 4 minerals.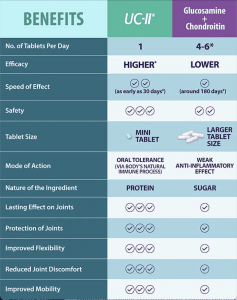 Recommended for:
Adults with joint discomfort.
Adults actively participating in sports.
Adults who desire to have better joint mobility and flexibility
Adults who seek alternative choice of joint supplement (Glucosamine and Chondroitin).
Directions for Use:
1 mini tablet daily (Do not exceed the recommended dose)
Suitable for sodium-restricted diets. Vitamins can only be of assistance if the dietary vitamin intake is inadequate. Use only as directed. Do not use if you are hypersensitive to any of the ingredients. Ask your doctor before use if you have impaired renal function. Consult your physician before taking this product if you are presently taking or have recently taken a prescription drug. Seek medical advice for use under 18 years. Ask your healthcare professional before use if you are pregnant or breastfeeding. No added Lactose, Flavours, Gluten or Preservatives.
Only logged in customers who have purchased this product may leave a review.